In a time of increasingly unpredictable consumer demand, traditional supply chains are struggling to keep up. In response, businesses need to weed out outdated components and obsolete practices, while moving toward a more agile system.
Organizations that are still employing traditional methods will struggle to streamline end-to-end supply-chain processes. Obsolete practices will only increase the complexity and difficulty of the task.
In particular, electronics manufacturers in industries such as aerospace and medical traditionally struggle to manage component obsolescence. Identifying and replacing obsolete supply-chain practices can help businesses to thrive.
Among the most persistent and outdated concepts in supply-chain management today is obsolete stock. The term refers to inventory that has reached the end of its product lifecycle, with no demand in the market.
Manufacturers that fail to accurately forecast downward trends in demand often end up with large quantities of obsolete stock. These additional inventories show up on the company's balance sheet as working capital, with little chance of a return on investment.
Source: EazyStock
Surplus stock may also be the result of fast-changing consumer trends, new technology, or a product being deemed useless. In all such scenarios, practical demand forecasting and effective inventory management are a must.
The implementation of artificial intelligence and robotics technologies, along with blockchain and the internet of things (IoT), is making traditional supply-chain management practices obsolete. The transition from outdated supply-chain practices to futuristic processes and technologies began with digitization of the manufacturing process under the term Industry 4.0. Subsequently, the integration of Industry 4.0 with similar optimization strategies in supply management has led to the advent of Supply Chain 4.0. In the process, powerful blockchain applications and A.I. have triggered an evolution to the next stage in the supply chain.
It's crucial to be able to track products throughout their lifecycles. By the time inventory reaches the obsolete stage, it's usually too late to do anything to make the product profitable. That's why the right time to take action is when sales begin to go downward.
Liquidating Inventory
Many organizations are uncertain about what to do with obsolete stock and make the mistake of not liquidating it as soon as possible. Some simply keep their obsolete inventory in warehouses to avoid showing it as an expense or write-off on their quarterly reports.
It's not easy to admit that a large investment in a potential revenue-generating product has become a liability for the business. However, not addressing obsolete inventory issues is an even bigger mistake. Liquidating obsolete inventory and getting it off the books will help businesses free up warehouse space for profitable inventory.
Supply-chain and inventory-management systems can effectively track inventory movements, but they're often unable to identify how much is required to meet customer demand. To avoid keeping surplus and obsolete stock, make sure to optimize your demand forecasting, stocking strategies and replenishment processes.
These days, the integration of blockchain and A.I. can help to accomplish that task by applying advanced algorithms that allow inventory-management teams to stock the right products in the right quantity. With the ability to track throughout a product's lifecycle, it becomes easier to identify and adjust replenishment, and avoid the piling up of excess stock.
Consumer demand for better and smarter products results in shortened component lifecycles. Nearly a third of all household electronics purchases happen not due to the malfunctioning of old units, but because of consumers' desire to upgrade. Frequent product launches can reduce the lifecycle of some electronic components, such as smartphones.
To manage component obsolescence issues efficiently, consider the following best practices:
Develop a strategy to manage component obsolescence in the design phase. Working with your product design team to formulate a strategy can help you to manage component obsolescence. Before doing that, obtain crucial information for better insight into the product lifecycle forecast. By avoiding spec-in products that have more of a chance to become outdated, companies can lower the risk of obsolescence in the production phase.

Roll out practical component obsolescence management programs. When it comes to managing component obsolescence, there's no one-size-fits-all solution. Depending on the type of product, market demand, positioning and anticipated product volume, the sourcing strategy for each component has to be unique. Implementing practical obsolescence programs, along with the use of historical data, can help to identify excess components. Such programs can also help in providing the best pricing and warehousing options for components to be liquidated.

Replace outdated technology. While consumers get benefits from new and advanced technologies that improve their lifestyles, supply-chain businesses still depend on many obsolete labor- and time-intensive systems.
New research shows that 85% of the workers in the U.K. believe they would perform more efficiently if better technologies were available in their workplaces. A survey of workers by Webexpenses, a cloud-based expense-management provider, finds the following:
26% desire to have better I.T. systems in the workplace.

16% say the technologies they use at home are much better than the ones in the workplace.

14% say their companies depend too much on tedious paper-based processes, which are a major cause of frustration.
A good supply-chain service provider can help your business to source, buy and secure inventory in warehouses, while complying with the highest industry standards. Such a partner can help ensure that the right quantities of components are available for manufacturing. It can apply advanced technologies to track each stage of production according to the latest demand forecast, resulting in the elimination of obsolete component inventories that pile up in warehouses.
Dynamic Data
This year and beyond, manufacturing businesses will focus primarily on the combined usage of blockchain, IoT, robotics and data technology. They're likely to take a step toward building new supply chains through digitized or automated versions of manual and monotonous tasks. This will help to get rid of inefficient paper-based work that requires human intervention, which often results in data loss and wasted time.
Initiatives for digitization and automation will involve all aspects of production, from computerized contracts to factory robotics. It will become possible to digitize all manual functions and analog documents, and register them in a master database that's accessible to new analytical tools. Machine learning and automation will make real-time optimization possible by continuously expanding the data pool.
Equipped with blockchain, IoT-based data management, machine learning and A.I. analysis, supply chains can move toward on-demand and agile operations. They can employ dynamic planning and advanced applications that work in real time to identify factors both internal (such as machine malfunctioning and degradation) and external (such as traffic, weather and regulation).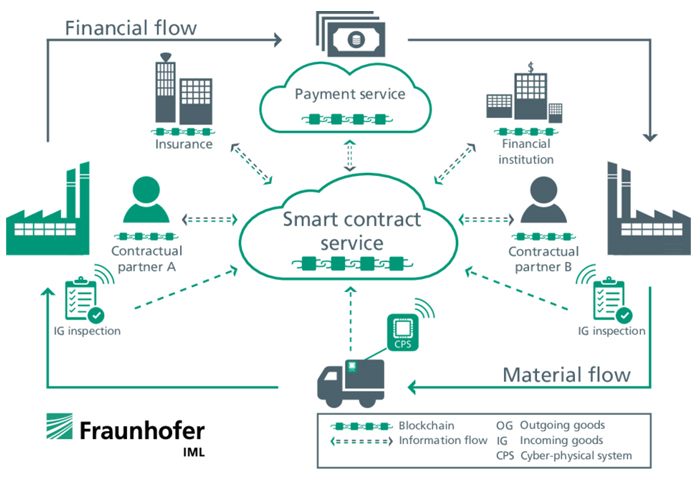 Source: Fraunhofer Institute for Material Flow and Logistics
Supply chains integrated with blockchain technology can utilize "smart contracts." These are transactional-based programs designed to execute based on the precise status of a shipment. Smart contracts can help to automate entire systems using specific data points, with the aid of a blockchain ledger.
A digitized and blockchain-integrated supply-chain system helps in streamlining the following areas:
Selection of supplier and supplier-enabled innovation;

Routing, dispatching and maintenance;

Detection and rectification of points of failure and inefficiencies that increase costs, and

Transactions and exchanges.
Various human elements of supply-chain management will fast become obsolete, with some jobs shifting from humans to machines. At the same time, new technologies are likely to create better and more engaging jobs for people.
The need for human intervention in the supply chain will lie in building and maintaining high-tech and digitized systems. There will be an increasing need for machine learning and A.I. experts, blockchain developers, data specialists, IoT technicians and robotics engineers. These will be the new major players who will make up the human aspect of supply chains.
Next-generation supply-chain management requires insightful data collation and management. In addition, IoT sensors and scanners can increase the value of available data. Smart products and automated services, with the help of physical sensors and internet connectivity, will create data sources like never before. Businesses will be able track and record the real-time status of products throughout the supply chain.
A.I. and machine learning can help to process the new data sets and create forecasts through accurate analysis. This is where the concept of predictive analytics comes in. Smart forecasting can further help to increase automation practices by streamlining operations in multiple areas — including inventory replenishment, delivery routing and machine maintenance — all based on access to real-time data. Such an approach has already reduced overall planning errors by between 30% and 50%.
A blockchain and A.I.-based supply chain is already proving to be an effective solution for small and mid-sized businesses. Blockchain technology works in sync with IoT, automation, A.I. and machine learning for data analysis. Organizations can implement a decentralized ledger in the blockchain to collate data, use smart contracts for automation and create transactional efficiencies.
To be sure, shifting from a traditional supply-chain system toward the new Supply Chain 4.0 will require both financial and technological investments. However, a reputable supply-chain service provider can make that transition seamless, through the use of blockchain solutions that are economical, effective and customizable.
Supply-Chain Redesign
An outdated and inefficient supply chain can affect every aspect of an organization. Businesses need to be constantly reevaluating their supply-chain management performance. Those that frequently initiate technology and process upgrades can better manage growth, profitability and customer service.
The following trends can trigger major changes to supply-chain design and performance:
Demand-driven forecasting. As manufacturing capacity and sources increase, more companies are moving away from plant-level production planning in favor of a demand-driven approach, to manage demand more efficiently.

Cost improvement. Increased product innovation and brand equity no longer allow most products to automatically command higher prices. To keep competing with commoditized products, companies are making significant cost improvements in supply-chain technology and redesign.

Outsourcing. These days, many organizations are realizing that outsourcing all or parts of a supply chain can yield major financial and operational benefits. They can realize innovations through adopting advanced technologies, global manufacturing standards and new product-design capabilities. In an outsourced supply-chain environment, the focus is on information, controls and excellence from the outset.

Reduced product lifecycles. These days, most manufacturers are in a hurry to develop innovative products and introduce them to market. At the same time, they need to minimize the cannibalization of existing products that still have high demand. To fulfill these requirements and better manage product lifecycles, organizations need more dynamic and highly efficient supply chains.
Over the years, supply-chain networks have become more complex, creating a need for improved technologies. Supply-chain management (SCM) and enterprise resource planning (ERP) software providers are addressing numerous critical areas of manufacturing and distribution, including:
Manufacturing optimization,

Procurement,

Product lifecycle management,

Network and inventory optimization,

Logistics optimization,

Sales and operations planning,

Radio frequency identification, and

Business intelligence.
These technologies have enabled supply-chain specialists to innovate, reduce costs, improve service and meet customer expectations for better products. Emerging technologies such as blockchain, A.I. and IoT are helping supply chains become more transparent by delivering real-time data. They enable manufacturers to identify process and equipment inefficiencies, as well as other weak spots. Most importantly, these technologies minimize human error and improve productivity and profitability by enabling employees to report instances of failure in real time.
Designing, manufacturing and selling a product can be challenging for the most established organizations. To keep paced with rapidly changing times and the need for sustainability, companies must look to new processes, technologies and management approaches. Those that re-assess their supply chains from the perspectives of strategy, process and technology will achieve supply-chain excellence as a core competency. Identifying obsolete practices and embracing innovative systems is the first step toward that goal.
Dan Weinberger is UN Supply Chain Expert and CEO of Morpheus.Network.