Ex-CIA agent Kevin Shipp has dragged Microsoft's crypto-mining patent right back into the center of another right-wing conspiracy based on a controversial ad featuring alleged satanist Marina Abramovic. 

Former CIA agent Kevin Shipp has shared an image of alleged satanist Marina Abramovic promoting a Microsoft product with his 150,000 Twitter followers, further exacerbating the Microsoft devil's patent conspiracy.
2020 has been a hard year for us all, the COVID-19 pandemic along with a major economic crisis and the general uncertainty about the state of our society appears to have the online masses no longer sure what to believe. Prevalent throughout the pandemic have been conspiracy theories and an unfortunate Microsoft patent number filing appears to have once again dragged Bill Gates right into the thick of the misinformation.
On Sept. 10, former CIA agent Kevin Shipp in a Tweet, linked Microsoft's recent crypto-mining patent—which outlines a system for converting body activity data into computational power—to an advertisement for Microsoft featuring Serbian performer and alleged satanist Marina Abramovic.
On April 10, Microsoft uploaded a film to its YouTube account about Marina Abramovic, the Serbian performance artist is known for pushing her body to the limit. While the advertisement actually promoted a new mixed reality headset by Microsoft called the HoloLens 2, Shipp could not help but draw the connection to the Abramovic's alleged Satanism and the Microsoft Patent's suspiciously biblical number – WO2020060606.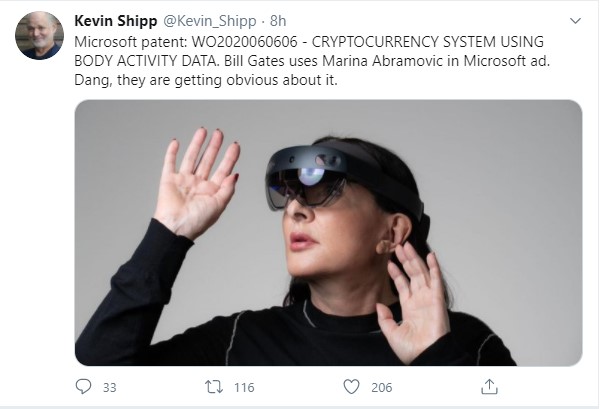 Microsoft's recent patent for a human-powered crypto mining system based on sensors that convert physical or mental activity into computer power has generated a lot of interest and captured the imagination of the public, but perhaps Shipp and others are looking at it a little too closely.
Notably, earlier in the year—Nikita Mikhalkov, the Oscar-winning Russian director, recently unleashed his own conspiracy after taking a closer look at the patent number for Microsoft's crypto mining system—WO/2020/060606. Appearing on an episode of 'Besogan TV', Mikhalkov was adamant that the patent is the first step in a satanic plan to microchip the entire global population and it was clear to him by the appearance of the devil's number "666" in the patent application.
On the program, Mikhalkov was quoted:
"The 060606 part is somewhat alarming. You probably understand this, right? Is this a coincidence or an intentional selection of such a symbol, which in the Apocalypse of John is called the 'number of the beast' – the 666."
Unfortunately for Bill Gates and his Foundation, the conspiracies have not stopped for him this year, and so far he has been accused of being the leader of a deep-state cabal, population control and even purposely withholding the Coronavirus vaccination. Ironically, no one appears to be doing more for the world in this pandemic climate the Gates and his wife Melinda's foundation, and Gates himself has had to comment on the insane allegations on several occasions.
Image source: Shutterstock